Tropa Mo Keyboard Apk
The Tropa Mo Keyboard is the first keyboard designed for Clash of Clans. This will be your best tool for switching multiple accounts with a single click.
Trolls and undesirable members are common in an online games therefore, unwanted messages and symbols are hard to filter. Flooding invisible characters (Clear Chat) is extensively abused in global chat. This is actually helpful in managing clan chat for clearing not just derogatory remarks but also the traces of actions like promotions, kick out, and members joining in and out footprints. TROPA MO KEYBOARD offers you a single click button for these.
This is not like the usual boring keyboard for it is designed with predefined dynamic ascii graphics and art text. By using this keyboard, cleaning the chat room will be as easy as 1-2-3 with the help of the new TROPA MO KEYBOARD.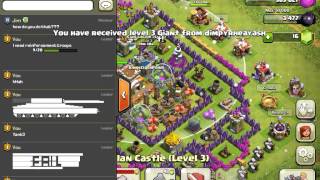 Download:
Tropa Mo Keyboard Apk
Reviewed by
Unknown
on
December 25, 2017
Rating: